Gynecologic Robotic Surgery Program
Why Choose Hoag for Gynecologic Surgery?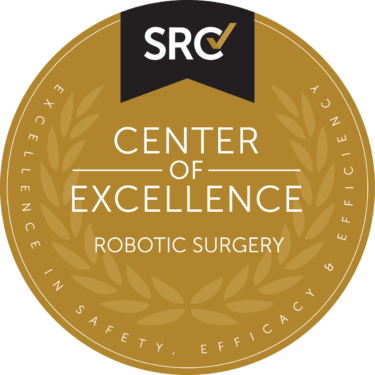 When it comes to diagnosing and treating gynecologic cancer, Hoag Family Cancer Institute is a nationally recognized leader in the field of robotic-assisted surgery, recently joining a small and accomplished group of only 10 medical centers in the U.S. to complete its 20,000th procedure using the da Vinci® Surgical System. Achieving this major milestone demonstrates the significant growth of this type of minimally invasive surgery and our commitment to excellence and improving the health and well-being of our patients.
Hoag continues to exceed clinical benchmarks and guidelines for robotic-assisted surgery as demonstrated by being designated a Center of Excellence in Robotic Surgery (COERS). For the seventh consecutive year, U.S. News & World Report's 2023-2024 Best Hospitals Rankings named Hoag Memorial Hospital Presbyterian in Newport Beach the highest-ranked hospital in Orange County.   
Our fellowship-trained surgical team are expertly trained in complex gynecologic surgery using one of our nine da Vinci® robots available at both our Newport Beach and Irvine hospital campuses. Utilizing advanced robotic technology to perform minimally-invasive gynecologic cancer surgery has become their preferred method of surgical treatment whenever possible.
Robotics is also used in benign gynecologic conditions, including procedures to treat endometriosis, pelvic pain, and uterine fibroids as well as to perform hysterectomies. As a result, many of these surgeries have become outpatient procedures eliminating the need for a hospital stay.
Surgical Benefits of Using the da Vinci® Robotic Platform

Hoag is a recognized leader in robotic-assisted surgery as the highest volume provider in Orange County. Using our advanced da Vinci® robotic platform offers a highly precise, minimally invasive alternative to traditional surgery. Consisting of an ergonomically designed surgeon's console, a patient-side cart with interactive robotic arms, a high-performance vision system and proprietary EndoWrist® Instruments via four robotic arms, these interactive instruments both mimic and enhance the surgeon's own hand movements, rendering them more precise by minimizing even the slightest hand tremor – an important element when operating on delicate lung tissue. By dramatically enhancing visualization, precision, control and dexterity, robotic-assisted surgery overcomes the limitations of conventional procedures, helping physicians to perform highly complex surgery with increased precision and excellent patient outcomes.
Patient Benefits of Robotically-Assisted Surgery
Robotic lung surgery provides many potential advantages compared to conventional surgery, including:
Less risk of complications, such as post-operative infection, blood loss and blood transfusions
Less pain and scarring
Shorter hospital stay
Faster recovery, enabling a quicker return to normal activities
Who is a Candidate for Robotic-Assisted Surgery?
Robotic-assisted surgery is not appropriate for every patient needing gynecologic surgery. Since the goal is a successful surgical result, each patient is evaluated individually to determine if robotic-assisted surgery is the best option for the individual patient.
Watch Our Video
Gynecologic Robotic Surgery Program at Hoag
Lisa N. Abaid, M.D. has performed over 10,000 advanced robotic minimally-invasive surgeries at Hoag, becoming one of only a few hospitals in the United States to do so. By using the robotic platform, we are able to make minimally-invasive surgery an option for more women, including those who may not be a candidate for more traditional laparoscopic procedures.