Meet the Maternal Mental Health Team
Elisabeth Farnsworth, LMFT
Lead Therapist
Elisabeth is a Licensed Marriage and Family Therapist, and was trained by Postpartum Support International (PSI) in the treatment of Perinatal Mood Disorders in 2005. After her training, she worked in private practice where her specialty was helping women recover from emotional illness during pregnancy and the postpartum period. She currently serves as PSI's Orange County Coordinator, offering support and connecting women to community resources.
Angela Mains, LCSW
Care Manager
Angela is a Licensed Clinical Social Worker with over 30 years of experience working with individuals facing life-changing events. She completed her training at UCLA and became a member of the Hoag Care Management Team in 2001. She is passionate about addressing emotional and psychological needs of women facing challenges during the perinatal experience. As a mother herself, Angela brings both personal empathy and professional expertise to her role.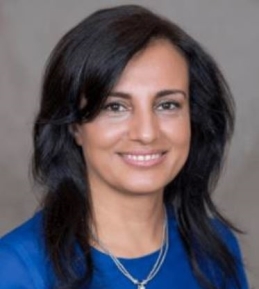 Salpi Salibian, MS, PA-C
Director of Clinical Operation and Program Development
Salpi joined Hoag in 2015. She oversees and helps develop integrated programs and offerings such as the Maternal Mental Health Clinic, Pelvic Health Program and wellness services at the Hoag for Her Center for Wellness. Salpi is a Certified Physician Assistant with over 10 years of clinical practice and research experience in various healthcare settings. She holds a Certificate in Leadership for Healthcare Transformation from the University of California, Irvine, as well as a Master of Science degree in Physician Assistant Studies from Northeastern University, Boston.
Sarah Kauffman, MD
Physician Director
Dr. Sarah Kauffman is a Columbia-trained, board-certified psychiatrist who specializes in reproductive and forensic psychiatry. She is originally from San Diego and completed her medical training at the University of California, San Diego (UCSD). She then completed her general psychiatry residency training, as well as a Women's Mental Health Fellowship and Forensic Psychiatry Fellowship, at Columbia University in NYC. Dr. Kauffman has authored papers and book chapters related to the intersection of women's mental health and forensic psychiatry and has been a board member on several mental health organizations. She is also actively involved in advocacy and speaking to the community about reproductive psychiatry and the intersection of mental health and the law. Dr. Kauffman believes in a comprehensive and person-centered approach to women's mental health including psychopharmacology, psychotherapy, and lifestyle approaches.
Read Profile