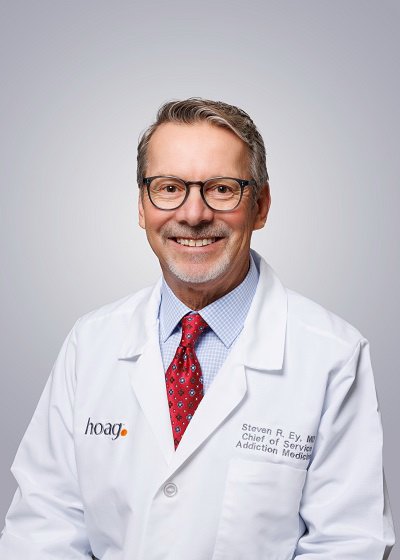 Steven R. Ey, M.D.
Hoag Addiction Treatment Centers
Specialties
Family Medicine
Addiction Medicine
Address
One Hoag Dr POB6100-CDU
Newport Beach, CA 92658-6100
Directions
Doctor Profile
About Steven R. Ey, M.D.
Dr. Steven Ey graduated medical school from UCLA in 1992. He then completed a three-year Family Practice residency and a one-year fellowship in Addiction Medicine through Loma Linda University. Dr. Ey has been certified by the American Society of Addiction Medicine since 1996. In 2003, he became a Fellow of the American Society of Addiction Medicine, and in 2009 was named to the inaugural class of diplomates in the American Board of Addiction Medicine.
Dr. Ey joined Hoag Hospital as the Medical Director of the Chemical Dependency Center in October 2006. Over the past fifteen years, he has served as Medical Director at the Betty Ford Center in Rancho Mirage, California and at Mission Hospital in Laguna Beach, California.
Dr. Ey is a former director on the California Society of Addiction Medicine Executive Council and served on the Education Committee for ten years. He chaired the 2000 and 2002 CSAM Review Course. Dr. Ey is married and lives with his wife, Dalia in Aliso Viejo, California. The joy of his life is his daughter, Juliette, born in March 2008.
Education
Board Certication
American Board of Preventive Medicine
Medical Education - University of California, Los Angeles (Medical Doctor)
Internship - Kaiser Foundation Hospital - Riverside (Family Practice)
Residency - Kaiser Foundation Hospital - Riverside (Family Practice)
Fellowship - Loma Linda University Medical Center (Addiction Medicine)