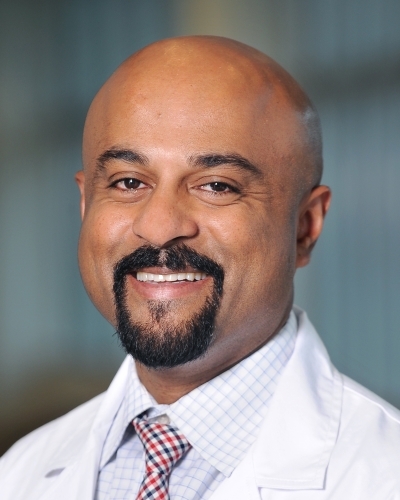 Santosh Kesari, MD
Accepting New Patients
Insurance
Please contact your insurance provider to confirm if this physician accepts your health plan.
Doctor Profile
About Santosh Kesari, MD
Santosh Kesari, M.D., Ph.D., is a board-certified neurologist and neuro-oncologist. He is ranked among the top 1% of neuro-oncologists and neurologists in the nation, according to Castle Connolly Medical Ltd. An internationally recognized scientist and clinician, he was also awarded an Innovation Award by the San Diego Business Journal and recently the 2019 Duke Special Service Award from the John Wayne Cancer Institute Auxiliary.
Dr. Kesari has had a long-standing interest in cancer stem cells and studies their role in the formation of brain tumors and resistance to treatment. He believes that in order to cure patients with brain tumors we first need to gain a better molecular and biological understanding of the disease. A physician/scientist, Kesari harnesses his experience in surgery, chemotherapy, immunotherapy, radiation therapy and novel devices to help develop precision therapeutic strategies that will advance medicine to a new stage in the battle against brain tumors. Additionally Dr. Kesari has focused on developing novel drugs and using stem cells for repairing neurological disorders including dementias, traumatic brain injury, stroke and neuropathies.
Dr. Kesari graduated from University of Pennsylvania, School of Arts and Sciences and earned a Ph.D. in molecular biology and an MD from the University of Pennsylvania, School of Medicine. He completed his residency in neurology at the Massachusetts General Hospital/Brigham and Women's Hospital/Harvard Medical School and his neuro-oncology fellowship at the Dana-Farber Cancer Institute in Boston.
Education
Board Certification
National Board of Physicians and Surgeons - Neurology
Medical Education - Hospital of the University of Pennsylvania (Medical Education)
Internship - Beth Israel Medical Center (Internal Medicine)
Residency - Massachusetts General Hospital (Neurology)
Fellowship - Massachusetts General Hospital (Neuro-Oncology)