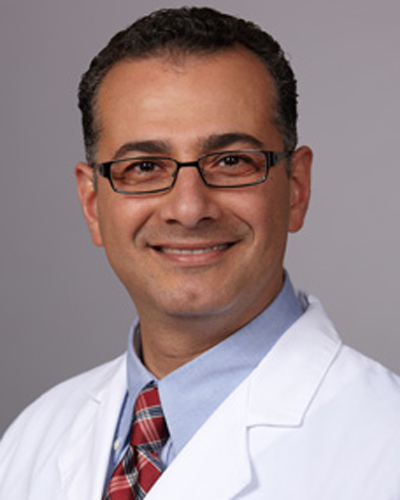 Ehab N. Mady, DO
Physician Leader
Accepting New Patients
Specialties
Internal Medicine
Address
351 Hospital Rd Ste 401
Newport Beach, CA 92663
Directions
Insurance
Aetna
Anthem
Blue Shield
Cigna
Scan
United Healthcare
Doctor Profile
About Ehab N. Mady, DO
About Ehab Mady, DO, FSVM, RPVI
Dr. Mady is a Vascular Medicine specialist and Medical Director of the Vascular Services Program at the Jeffrey M. Carlton Heart and Vascular Institute at Hoag Memorial Hospital Presbyterian.
Dr. Mady's training and expertise are in the non-invasive vascular laboratory and the medical management of vascular disease.
He completed his Residency in Internal Medicine and Fellowship in Vascular Medicine at the Cleveland Clinic in Ohio. Dr. Mady is Board Certified by the American Board of Internal Medicine and the American Board of Vascular Medicine. He is also a Registered Physician in Vascular Interpretation by the American Registry for Diagnostic Medical Sonography. He earned his Doctor of Osteopathy degree from the New York College of Osteopathic Medicine.
Dr. Mady's areas of interest are the treatment of:
Venous disorders such as deep vein thrombosis, pulmonary embolism, hypercoagulable states, varicose veins and chronic venous insufficiency and anticoagulation management.
Arterial disorders such as lower extremities, carotid, renal and mesenteric disease, fibromuscular dysplasia, entrapment syndromes, aneurysms, vascular risk assessment and risk modification, vascular disease in the young and athletes, Raynaud's and rare vascular disorders.
Lymphedema and chronic leg swelling
His professional associations include:
Fellow of the Society for Vascular Medicine
American College of Phlebology
Society for Vascular Ultrasound
International Society for Thrombosis and Hemostasis
International Union of Angiology
Education
Board Certification
American Board of Internal Medicine - Internal Medicine
Medical Education - New York College of Osteopethic Medicine (Doctor of Osteopathic Medicine)
Internship - Cleveland Clinic Hospital (Internal Medicine)
Residency - Cleveland Clinic Hospital (Internal Medicine)
Fellowship - Cleveland Clinic Foundation (Vascular Medicine)