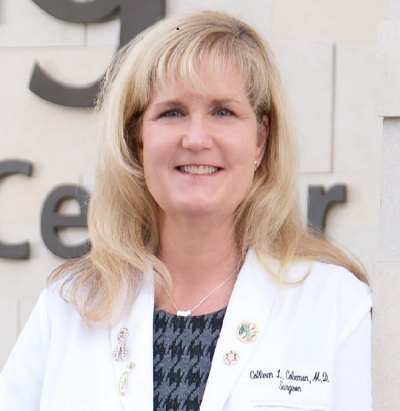 Colleen L. Coleman, M.D.
Breast Surgeon
Accepting New Patients
Specialties
General Surgery
Address
510 Superior Ave Ste 200G
Newport Beach, CA 92663
Directions
Insurance
Aetna
Anthem
Blue Shield
Cigna
Scan
United Healthcare
Doctor Profile
About Colleen L. Coleman, M.D.
Dr. Coleman is a highly experienced and compassionate breast surgeon who has been performing complex breast surgical procedures at Hoag for nearly 20 years. She is recognized by the American Society of Breast Surgeons as a breast specialist and is also board certified in general surgery through the American Board of Surgery.
Dr. Coleman was the first female surgeon at Hoag to dedicate most of her surgical practice to the performance of breast surgery and she continues to treat the full spectrum of breast diseases. She was also the first woman chairman of the Department of Surgery at Hoag. As a valued member of Hoag Breast Center's surgical team, Dr. Coleman has extensive experience in performing advanced techniques for breast surgery including oncoplastic surgery and intra-operative radiation therapy (IORT).
Recognized for her surgical expertise and outstanding patient care, Dr. Coleman has been named to Orange Coast Magazine's exclusive list of Top Doctors in Orange County and is also a member of several professional organizations including: the American College of Surgeons, American Medical Association, American Society of Breast Disease and the Society of Women Surgeons.
She became a member of the Medical Staff at Hoag Memorial Hospital Presbyterian in July 2000 after completing a residency in General Surgery at the University of California Los Angeles in June. Her General Surgery residency included a year of research at Children's Hospital of Los Angeles.
A long-term resident of Orange County, Dr. Coleman is active in her community and enjoys spending time with her husband and two children when she is not caring for patients in her office or the operating room.
Education
Board Certication
American Board of Surgery
Medical Education - University of Southern California, Keck School of Medicine (Medical Doctor)
Internship - University of California Los Angeles School of Med (General Surgery)
Residency - University of California Los Angeles School of Med (General Surgery)
Fellowship - Children's Hospital - Los Angeles (Research)
Residency - University of California Los Angeles School of Med (General Surgery)