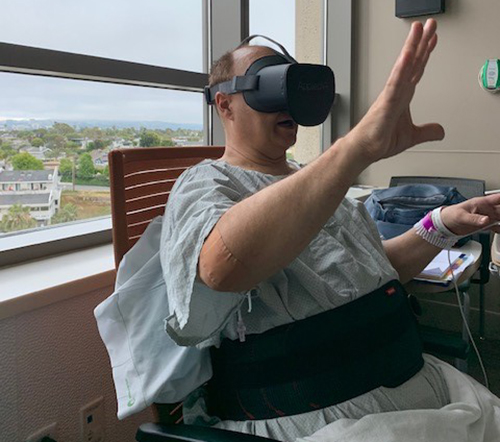 "It's like the pieces of a broken puzzle started falling back into place."
Charles Arnott, 62, had been admitted to Hoag for severe, chronic pain management after injuries suffered from a prior car accident and a subsequent fall.
To cope with hours in a hospital bed and the pain he was experiencing, the nursing team at Hoag offered Charles an opportunity to try virtual reality (VR) technology from AppliedVR.
Hoag is one of the first hospitals in the nation to offer VR treatment outside of clinical trial settings and is seeing incredible outcomes and results. Nurses and support staff facilitate the program to give patients access to this innovative technology that stimulates areas of the brain that affect sensations such as pain, anxiety and depression.
Although initiated as a pilot, this will now be established as a new Hoag program due to the overwhelmingly positive feedback from patients, and the impact it has on their symptoms and recovery.
"The technology allows me to experience brief moments of zero pain where I can refocus and re-channel positive energy to help me get through spasms. It motivates me to keep going," Charles said.
From swimming with a whale to exploring Portugal, VR allows hospital patients an "out-of-body" experience and a moment of relief from their pain and anxiety – without the use of opioids or other pain medications.
"We can see in functional MRIs that while using VR it decreases the emotional unpleasantness of pain, the conscious worrying about the pain as well as the physical sensation of pain itself," said Robert Louis, M.D., the Empower360 Endowed Chair in Skull Base and Minimally Invasive Neurosurgery and director of the Skull Base and Pituitary Tumor Program at Pickup Family Neurosciences Institute at Hoag. "When you see the before and after, it's amazing."
The technology could have a tremendous implication on non-pharmaceutical pain management.
"With the aid of VR, I've been able to better control my pain and work through it," said Charles. "I was even able to reduce my pain medication by half."
Charles noted that after using VR he was left in a clearer state of mind.
"Even without the headset on, I've been able to visualize the VR experiences and channel the feelings I felt in those moments to help keep me motivated."