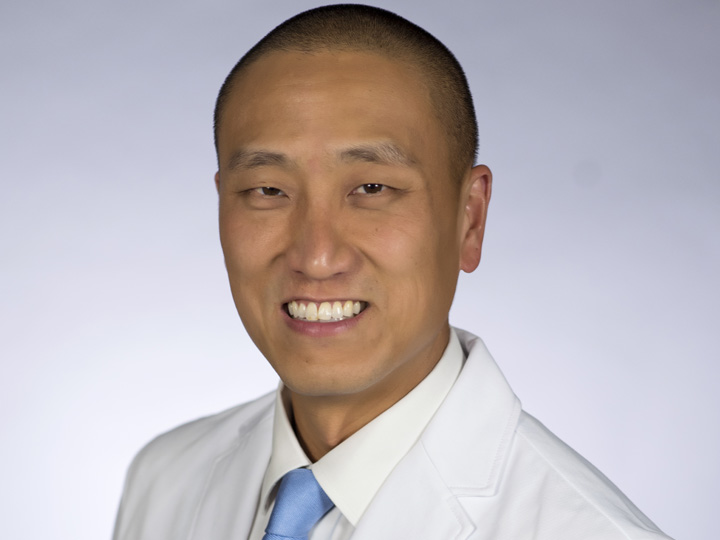 Eugene Yim, M.D.
Steve Prough and his wife, Kathy, decided to enroll under the care of Dr. Eugene Yim in August. He says, one month later, that decision saved his life.
In September, in the midst of the pandemic, Steve visited Dr. Yim with a fever and a cough that had persisted for a week. Dr. Yim tested him for COVID-19, as well as strep throat and a few other viruses.
"That was a Friday. He went out of town that afternoon but called me the next day, a Saturday, to tell me everything was normal," Steve said. "I told him that my fever was up a bit and that I still had a cough and some soreness."
Sometimes viruses work themselves out, so Dr. Yim waited one more day, and then called his patient early in the morning on Sunday from Cincinnati, where he was traveling with the Los Angeles Chargers as one of the team's physicians. Steve still had a fever, so Dr. Yim sent him to the ER – but before he did, he called the hospital and made all the arrangements for his patient.
Steve arrived to find an ER doctor who was well-versed in his case and who had an X-ray machine at the ready in his room for him. Dr. Yim had also consulted a nurse on the hospital floor where he suspected his patient would be headed after his visit to the ER.
"Everyone was absolutely brilliant," Steve said. "I'll be eternally grateful for Dr. Yim because he saved my life, initiating phone calls to me on the weekend."
The X-ray revealed what Dr. Yim suspected: a spot on his lungs indicative of pneumonia. He was immediately ushered upstairs, where infectious disease specialist, Susan Allen, M.D., started him on an IV of antibiotics. In addition to pneumonia, he was found to have sepsis, a condition that could have killed him had it not been for the fast-moving team at Hoag. Nephrologist Kambiz Vahabzadeh, M.D. monitored Steve's kidneys, as his sepsis was affecting their function.
Late Tuesday night, Steve awoke to find four nurses at his bedside. "I look at the monitor, and my heart is racing as if I'm in a marathon."
Steve experienced atrial fibrillation, an irregular heartbeat that was also caused by the sepsis. At that late hour, the nurses contacted Steve's cardiologist, Lee Carter, M.D., who directed his treatment.
"The next morning, Dr. Carter walks in and looks at me and says 'OK, I know what happened, I know why it happened, I know how to fix it. And I'm going to do it aggressively. Do you have any questions?'" Steve said. "I said, 'No, sir. No questions at all.'"
After eight days, Steve was back to good health, able to leave the hospital and feeling grateful for the care he received.
"Dr. Susan Allen is an absolute pistol and Dr. Vahabzadeh is absolutely brilliant. Dr. Carter is a very caring and quality doctor, and Dr. Yim is very special and been a lot of help to me and my wife.
"The team of doctors at Hoag are spectacular," he said. "They were working as a team, bringing in experts when needed. I was very impressed. The one thing I regret is that I did not get the names of all the nurses who are absolutely wonderful."
Many of those nurses helped Steve get through a lengthy hospital stay during a pandemic – a time in which hospital policies throughout the state prohibited loved ones from visiting patients.
Zoom meetings also helped. He'd speak often to his Links Fellowship members, as well with the 12 fellow former business CEOs who make up his Forum group. Most importantly, he was grateful to be able to communicate with his wife of 56 years.
"Kathy was a big support to me, not just during this time, but always," he said. "You realize how important family is. I always knew, but this highlights the importance."
While friends and family couldn't visit, Steve's physicians could. Dr. Yim drove the 25 minutes each way from his office on his lunchbreak daily to check on him, as Steve steadily improved over eight days.
"I said, 'When are you going to eat?' He said, 'I'll grab something on the fly, don't worry about me,'" he said. "All my doctors were in there at least twice a day, plus the nurses. It meant a lot."
Steve said he has long felt connected to Hoag. His first trip to the hospital was as a young child in 1955, when he was stung by a sting ray. Both of his parents and Kathy's were treated for cancer at Hoag, and three of their grandchildren were born there.
"The personal care and the quality of the doctors and nursing staff are exceptional," said Steve. "I think in today's world of medicine, being connected to Hoag makes sense. I consider myself blessed and lucky to be part of the Hoag family."