Chronic back pain is more than, well, a pain. It can be disabling, affecting a person's ability to work and interfering with their quality of life.
It can also be managed in part through lifestyle changes.
"Even small alterations to your diet, exercise regime and sleep can help you manage chronic back pain," said Charles De Mesa, D.O, M.P.H., chief of interventional pain, physical medicine & rehabilitation at the Hoag Spine Center. "Medication, injections and surgery are always options, but small adjustments to your lifestyle can lead to significant improvements in your back pain."
To schedule an appointment with a Hoag physician regarding chronic back pain management, call our dedicated spine care navigator at 949-764-1411 or visit www.hoag.org/spine.  
Dr. De Mesa recommends a few changes that aren't a pain to implement:
Eat Well. International studies have found an association between processed food and inflammation and pain. Toss out the chips and reach for food rich in vitamins, minerals and phytonutrients. "Filling your plate with vegetables and lean proteins, as well as food associated with anti-inflammatory properties such as tomatoes, nuts and fatty fish, can help your overall health, as well as manage your back pain flare ups."
Exercise. "The patients I see describe a Catch-22 situation: They know that exercise can help prevent or alleviate back pain, but they're in too much pain to engage in physical activity," Dr. De Mesa said. If this sounds familiar, try chair yoga, walking around the neighborhood or swimming. Start small, and don't be discouraged if you take a few steps back from your fitness goals. It's important to keep moving.
Get Enough Sleep. "Your body heals when you sleep, reducing your stress hormones and lessening your back pain," Dr. De Mesa said. "Unfortunately, too many of us cut corners when it comes to getting enough sleep." Starting an hour before bed, avoid blue light from TVs or your phone, set a consistent bedtime and wake-up time, and stick to it. Your body will thank you.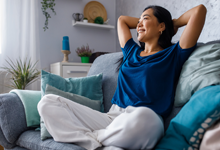 Learn to Manage Stress. Meditation and cognitive behavioral therapy can help you learn to control your response to life's stressors. "Managing stress is important because stress and pain are a two-way street. Pain triggers the release of stress hormones, which makes muscles tighten up – causing you to experience more back pain," Dr. De Mesa said.
Quit or Don't Smoke. "There is probably no list of health recommendations that doesn't include smoking cessation," Dr. De Mesa said. "Smoking is bad for every aspect of your health. When it comes to chronic back pain, smoking slows healing and raises your risk of degenerative disc problems, which are a common cause of lower back pain." If you don't smoke, good for you! If you do, enroll in a smoking cessation program to help you break the habit.